Aight, time for another CyPi dev blog update!
This time around this development dump is split between two project Cyberspace Pirates and Chicken Man! I'll start with the Cyberspace Pirates update!
For starters I've updated the designs of the Gogo Force 5 for the comic! Who are the Gogo Force 5? Well eagle eyed viewers of the short film might have noticed a poster of them in the background: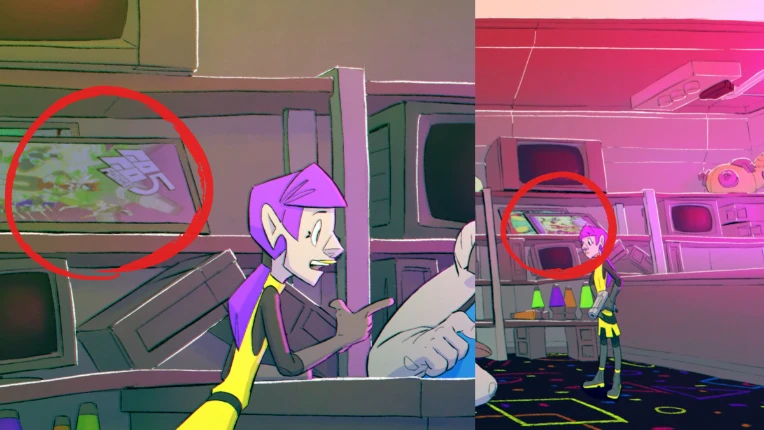 They are an elite team of 5 law enforcers who oversee the 5 main districts of Neo Gogo (City when CyPi takes place) Cero and Pegi are key members of the Gogo Force 5.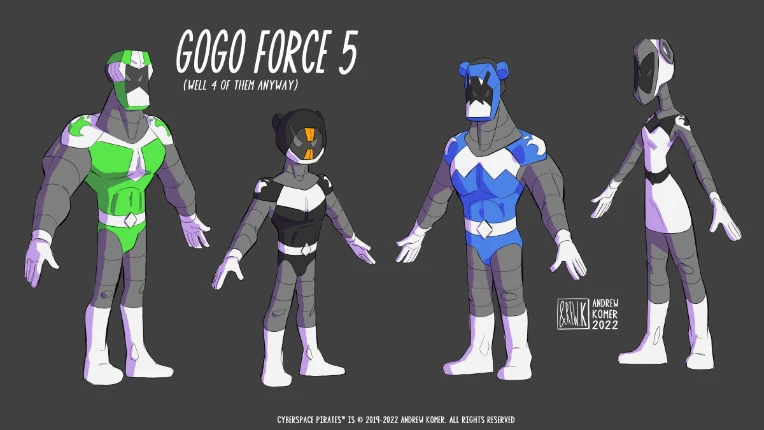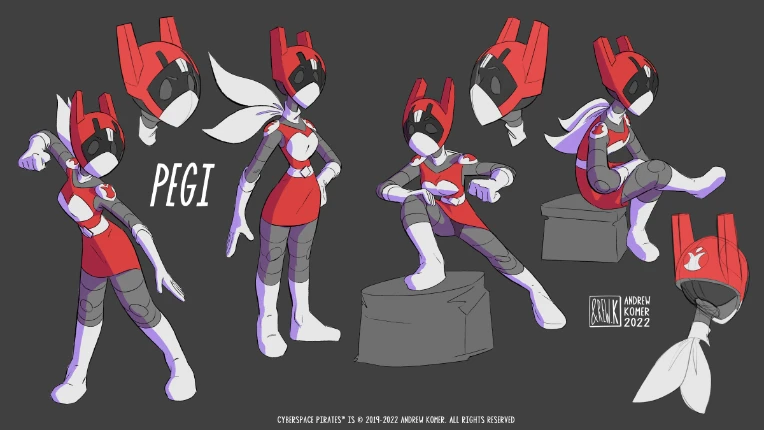 Since it's been a while since the last development dump, I'm also revealing the design for a brand-new character!!! I present Neon!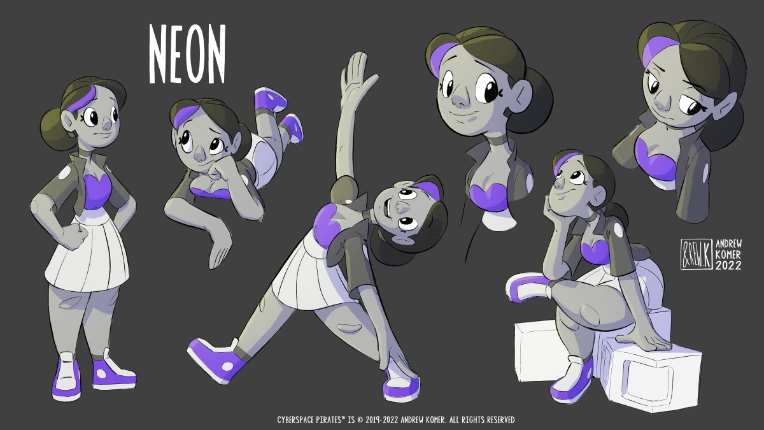 It's too early to share much details about her without giving away too many spoilers. But what I can say is she is Alice's childhood friend and will appear in the second episode of the comic.
Now for Chicken Man news! ... Your probably wondering "WHAT THE HECK IS CHICKEN MAN??" Chicken Man is a comic series I drew when I was 9 years old, that I later adapted into a graphic novel when I was in collage! (Well mostly gone anyway, more on this in a bit)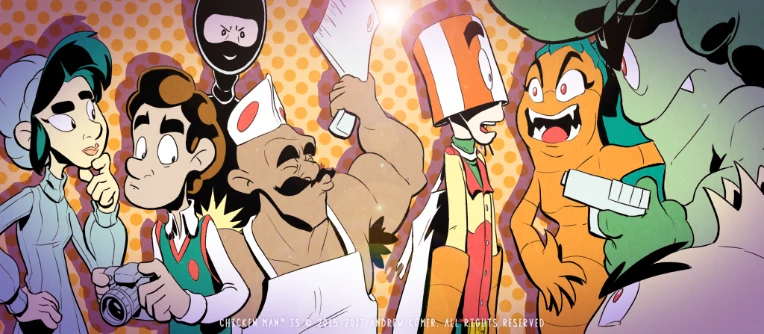 There were little nods to the Chicken Man hidden as Easter Eggs in the Cyberspace Pirates short film: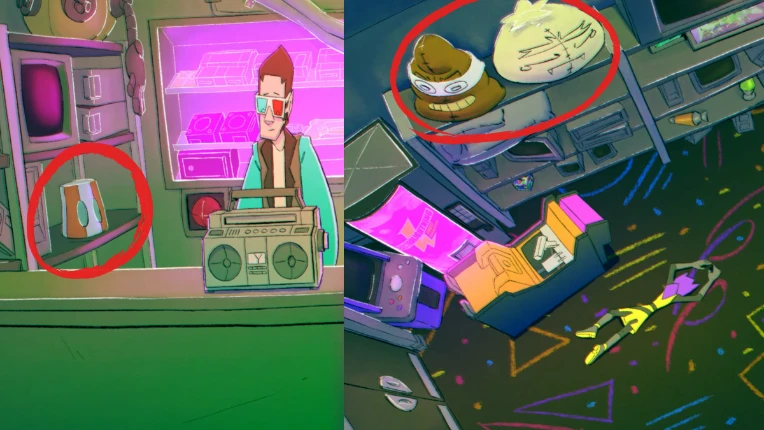 He is the first ever cartoon character I created, and holds a special place in my heart. So I just had to put little nods to the comic into CyPi. Now what was that bit about it being unfinished? I released the first 6 chapters of Chicken Man back in 2017 as a paperback entitled 'Chicken Man: Vol.1-ish' The final two chapters in the story were planned to release the following year. Unfortunately, I had to put the ending on hold because of too much real-world correlation between the ending and horrific events that unfolded in the United States the following year (won't go into to detail as to what happened, but in short "kids for the love of god, stay away from guns.")
Anyway, I planned to re-write the ending but my 4th year at Sheridan approached in the blink of an eye. Next thing I knew I was creating CyPi, so Chicken Man was left on hold. Where it seemed to remain UNTILL NOW!
Throughout collage I had a mentor named Blair who encourage me to keep on making comics and helped me get through one of the biggest rough patches in my life. Shortly after New Year's Day 2020, Blair suddenly passed away. Now I finally feel I'm ready to finish Chicken Man Vol.1, and I will be making it out in honor to him.
Chicken Man Vol.1 - "Attack of the Vegetable People" is now planned to release this Fall as a printed exclusive!
However, 44 pages of the book still need to be illustrated, so CyPi's release is being pushed to make time for the workload... I'm now aiming to have the CyPi comic start releasing 3rd quarter 2023.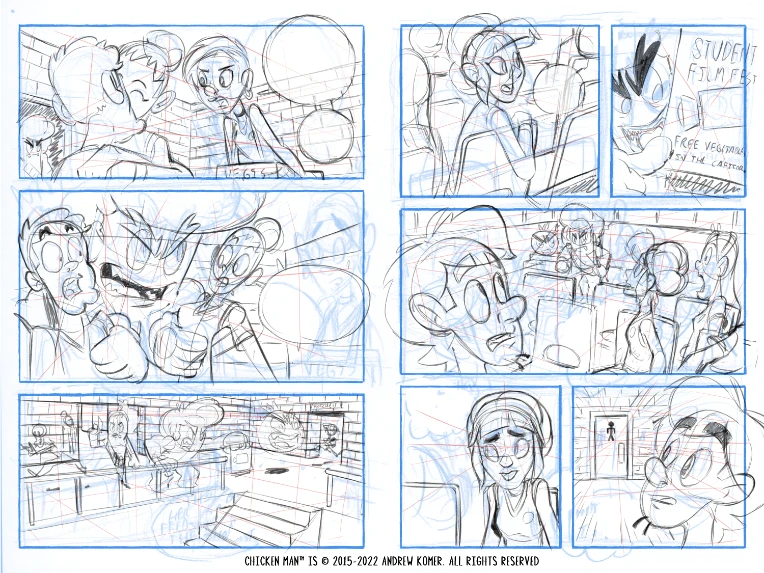 WOW! This was actually one heck of a development dump so here is a quick summary:
Cyberspace Pirates Comic - Release pushed to second half of 2023
Chicken Man Vol.1 - Releasing as a print exclusive Fall 2022
Till next time,
&rew .K